Introduction

"Work is the Meat in the Hamburger of life"
-Ray Kroc
The sizzle of tender meat touching the surface of a hot pan, the click of the knife hitting the cutting board and on its way there, slicing through the crisp lettuce and other veggies; the fragrance of freshly toasted bread being pulled out of the oven. These divine ingredients come together and then you can hear the squatch sound of the ketchup bottle, as you pour some over your delicious meal. Is your mouth watering? Surely you've guessed by now that we're talking about delectable hamburgers.
The scrumptious burger has a history of over half a decade and has travelled through time from being a modest meal to being the king of fast food. However, behind this lip-smacking meal is the efforts of a glorious American sweetheart, who charmed not only the hearts, but also the tummies of the world.

Let's go back in time and find out who it is?
It's the 1950's backdrop of the American landscape of San Bernardino, California. Bulky Cadillac's and Ford's begin to line up in the drive-in of a restaurant which was a small structure in the shape of an octagon. This little eatery was the talk of the town and everybody wanted to visit the place. The restaurant provided the people nothing special, but its staple - the all American Hamburger. However, its name was on everyone's lips and burgers in everyone's stomach. That small little restaurant was called McDonald's.
The ordinary looking drive-in was gathering a vast number of customers and was equipped with eight multimixers. (Multimixer was a five spindle milkshake mixer, unlike the single spindle milkshake mixer). Eight multimixers were capable of churning 40 shakes in a minute. That was a huge number. Why would a small eatery garner such humungous amounts of customers that it would require eight multimixers? On top of that, each multimixer costed $150 and mind you, we're talking about the year 1954. This would be way expensive even for a fully functional restaurant also during that time. It was an odd occurrence to be witnessed even for a top multimixer salesman and therefore it intrigued him. So one morning, the salesman decided to venture out to find what the fuss about McDonald's was?
Albert Einstein once said, "The important thing is not to stop questioning. Curiosity has its own reason for existing" and curiosity is the key to success. Well, this salesman was filled with the curious spirit, so success for him was inevitable. This inquisitive salesman was Raymond Kroc.
How should one introduce Raymond Kroc? Was he a young prodigy? No! In fact, he earned himself fame and wealth when he had already lived more than half of his life. Was he somebody who was born with a silver spoon in his mouth, No! He struggled his way up the ladder of success. Did he overcome any physical difficulties to attain success? No… he just fed the world, Hamburgers!!!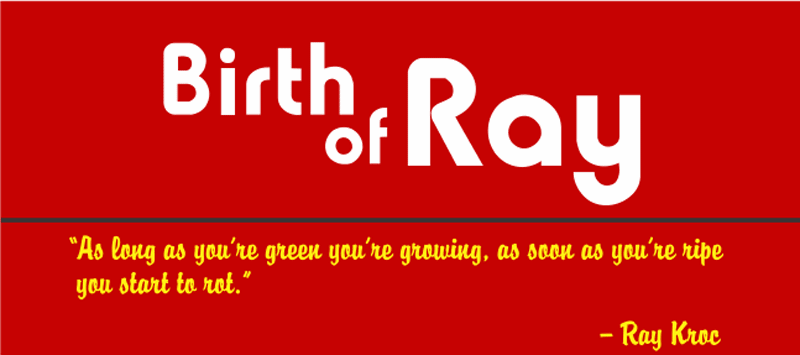 Birth of Ray
A couple of Bohemian(Czech) origins living on the western side of Chicago in Oak Park, Illinois, heard the first cry of their son Raymond Albert Kroc on 5th October, 1902. Raymond was the eldest of the three children of Louis and Rose Kroc and his siblings were Robert and Lorraine. The family functioned in a very close knit fashion and could be considered the ideal representation of a suburban American family. Raymond's mother, Rose, could be described as a loving and soulful home maker. She was an affectionate lady and earned extra money by giving piano lessons to children as well as adults. Raymond's father, Louis on the other hand, could be described as a man of great discipline. He worked for the telegraph company, 'Western Union' for nearly his entire life and slowly climbed the hierarchical ladder of his organization.
The young siblings, Raymond and Robert were very unlike each other. Ray had no inclination to study whereas Robert, who was fondly called 'Bob', was a very studious child. During their early childhood, they found it extremely difficult to even have a conversation with each other. This however changed as they grew into mature adults. The family fondly nicknamed Raymond as 'Ray'. A name that remained with him till the end and to which he later gathered great acclaim. His family also called him, "Danny Daydreamer", as he would come up with schemes and dream up elaborative plans to see it through. Ray accepted his nickname joyfully, and later mentioned in his autobiography that his dreams were not completely wasted, as "they were invariably linked to some form of action."
In the year 1906, at the age of four, Ray's father took him to visit a phrenologist (an individual who specializes in predicting a person's character and abilities by probing the shape and size of the individual's skull.) Upon close inspection of little Ray's head, the phrenologist predicted that Ray would enter the food industry. The young boy of four did not know what the future had in store for him and the phrenologist predicted only half the truth, as Ray not only entered the food industry, but became a pioneer and a leading example of success in the food business.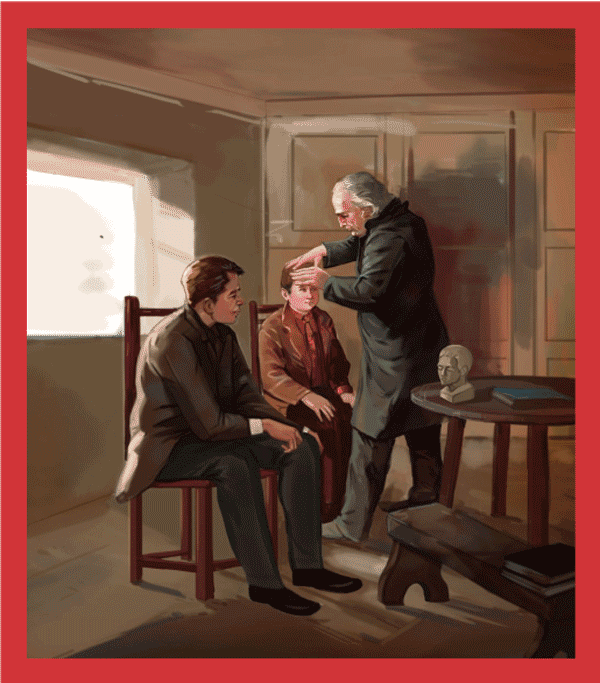 However, the food industry dream was not something that erupted in Ray's mind out of the blue or was nurtured by the phrenologist's predictions. It had its roots somewhere in his childhood aspirations, dreams and jobs. The many people, who knew the young Ray, saw him as a hard worker and an unconventional salesperson. He exuded determination and confidence. Ray's first acquaintance with the food industry happened when he started selling lemonade on a stall outside his home in Illinois. Selling refreshing lemonade was his way of earning himself some extra pocket money during his childhood. The successful venture of the lemonade stand was one of the building blocks of his future as the pharaoh of the fast food industry.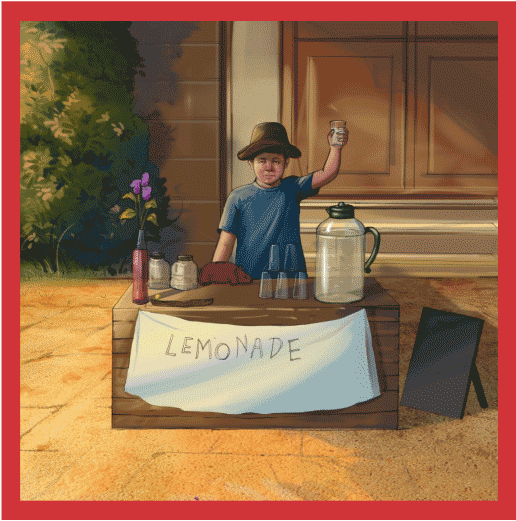 Ray's dedication can be accounted for by the fact that while he was still at school, he picked up a couple of menial jobs, like working at a grocery store and a drug store. His image around the neighbourhood was that of a boy who was intelligent, a quick thinker and hard working. While Ray was still in school he also displayed his excellence in debating. It was during a debate in school about the effects of smoking, when he first realized the importance of a convincing speech and that he had the ability to do so with ease. He liked the art of persuading people and very soon realized where his inclinations lay. During the debate, Ray was the center of attraction and he enjoyed it thoroughly.
Ray always showcased a certain amount of enthusiasm for the things he liked. He took to the piano naturally, and so while still in his formative years, he learnt to play from his mother. He also shared a craze for baseball and attended many matches with his father. With the years passing by, Ray was growing to be a young strong and resolute individual. He displayed many admirable qualities far above his age. Unintentionally however, Ray was moving towards and preparing himself to work in the restaurant business. He had a background in music, ability to persuade, perseverance, determination and dedication. Ray was displaying all the traits required to enter and successfully survive in the food business. It was more like his intuition was leading him on the path to the food industry.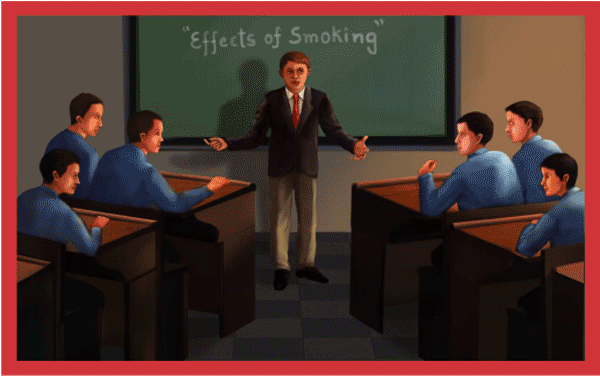 The Opportunist
The year was 1914; the First World War had erupted. The United States of America (and the Allied Powers which included the United Kingdom, France, the Russian Empire, Italy and other minor members) was at war with the Central Powers (the German Empire, the Austro-Hungarian Empire, the Ottoman Empire [the Turkish Empire] and the Kingdom of Bulgaria). The political and economic situation was tense in many countries of the world.
Ray on the other hand was growing into a young and ambitious individual. He began undertaking risks and trying his hands at many trades. In the year 1916, at the age of 14, Ray entered into another venture. He and his partners started the Ray Kroc Music Emporium. They would sell sheet music and Ray would play the piano which he had learnt from his mother.
The war carried on till the year 1917. Ray had finished schooling from Lincoln School in Oak Park and now wanted to help his country. However, he was only 15 at that time and therefore not eligible to be part of the war effort. Nevertheless, Ray lied about his age as he felt very patriotic towards the cause and wanted to do his bit for his country. He began with his training to be a Red Cross ambulance driver. As an interesting piece of trivia; just like Ray, there was another Oak Park resident who also worked as an ambulance driver during World War 1. That individual was the renowned American author and journalist, Ernest Hemingway.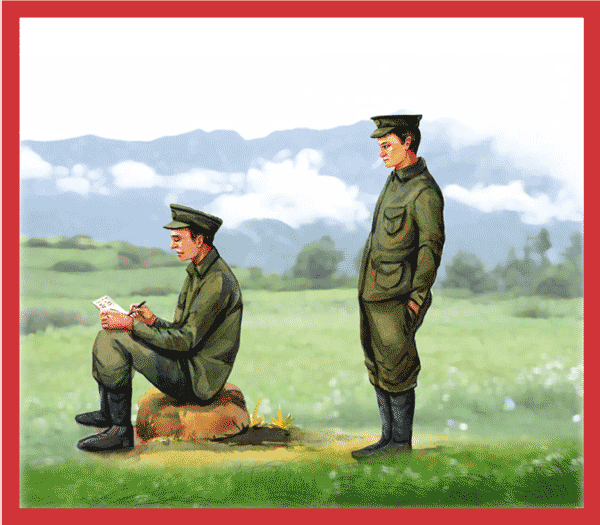 While Ray was undergoing training, he met with another young chap who had faked his age just like him to be part of the war effort. To Ray, this young individual seemed strange and eccentric as, he would draw and sketch during every free moment he would get. Unlike the other cadets, he preferred to sketch rather run around frivolously chasing girls. This artistic individual's name was Walter Elias. The world later came to know him as "Walt Disney". He went on to become a renowned American film producer, voice actor, entertainer and animator. We are all familiar with the rat with the big ears wearing red pants, white gloves and yellow shoes. Remember… Yes! Walt Disney was the man who created and voiced the famous, Mickey Mouse. But that's a different story altogether.
By now Ray was all ready to be part of the Red Cross and the war effort. He was all prepped to be shipped to France, when an Armistice (an agreement signed between the Allies and Germany, marking the end of the First World War) was signed on 11th November, 1918. As the war had now come to an end, Ray had to gather his belongings and return back to Chicago. On returning home, his parents; his father in particular asked him to complete his education. Ray continued his studies at the Oak Park River High School, but he was not interested in academics anymore. He described himself as someone who liked action and so he followed his heart and dropped out of high school. Ray had newer preferences and greater aspirations. He had taken to the piano naturally and wanted to venture out in the real world and earn his livelihood. While he was still in his teens, Ray decided to become a salesman, but before that he tried his hands at many others jobs such as playing the piano at a nightclub, working as a salesman selling feminine accessories and embellishments, and reading ticker tapes and translating symbols at the American Stock Exchange.
It was during this time that Ray met his first love, a young and vivacious girl named Ethel Fleming. The two hit it off instantly and soon began to share great affections for each other. However, their love faced its first glitch. Ray's love for Ethel was still blossoming when Ray's father, Louis Kroc, received a promotion at work and was asked to shift base to the eastern part of the country, 'The Big Apple', New York. After much reluctance, Ray left Chicago to move to New York, but his heart was back home. He soon returned, and in the same year the twinkling love birds decided to get married. However, Ray faced the opposition of his father, as he was not even 21, did not hold a steady job and was too young to cater to the tribulations of running a household. His father asked him to stand up on his feet and get himself a stable job. In his attempt to convince his father, Ray then took the job of working as a salesman at Lily Tulip Paper Cup Company. His job ensured the approval of his family to marry his love, Ethel.
Paper cups in the 1920's were the 'It' thing and Ray saw America heading the paper cup way. He was in a profession he liked and business seemed to be on an upswing. Ray was now a young, ambitious and hardworking salesman with Lily Tulip Cup Company. He would travel around selling paper cups to the American population. He excelled as a salesman as he paid great attention to his customers' needs and preferences. Ray banked on his communication skills and ability to interact and create connections with his customers. With this kind of ability and sincere hard work, his growth was inevitable. Very soon, Ray climbed the organizational ladder to become one of the top salesperson of the company. By the age of 22, Ray was more than independent; he worked as a paper cup salesman and also played the piano for a radio station. Ray was at a very good place in his life. He was progressing in his career and he married the woman he was in love with. By the year 1924, he found happiness again when he became the father of a beautiful young girl, named Marilyn. What more could the young man ask for? But Ray believed in progress. As he aptly said, "As long as you're green you're growing, as soon as you're ripe, you start to rot".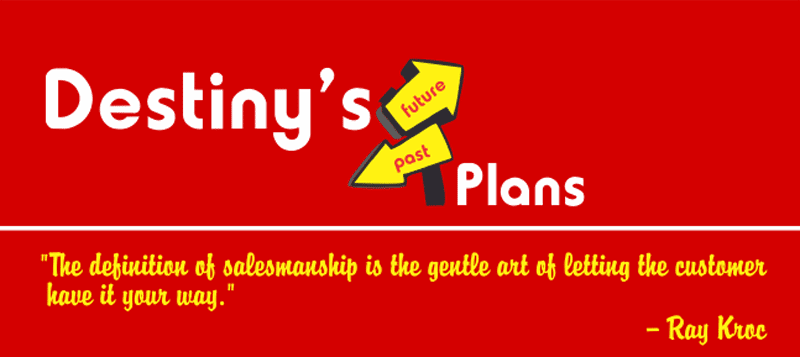 Destiny's Plans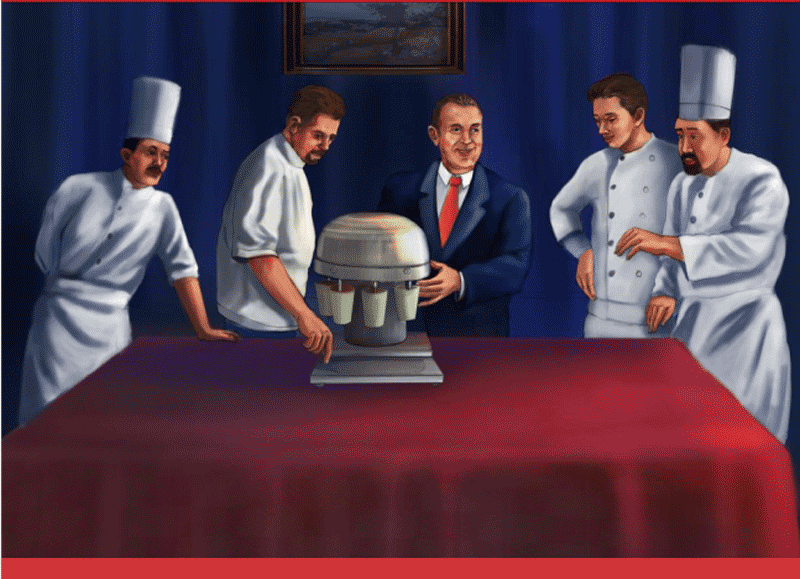 Fate had many more opportunities in store for Ray and he intended to make use of each one that came his way. One such opportunity came in the form of his best paper cup customer, Earl Prince, who was the inventor of a milkshake mixer called 'Multimixer' which sported five spindles. It was very different from the conventional milkshake mixers which had just one spindle and could churn out only one milkshake at a time. Ray could be called a visionary, as he realized the future potential in a product and worked towards selling it to its target market. He realized the potential in the Multimixer and decided it was a good proposition to invest time and energy into. Earl provided him with the exclusive marketing rights of the Multimixer. By the age of 37, Ray left his flourishing career in the paper cup business and ventured into selling and marketing the Multimixer for the company 'Prince Castle'. He traversed around the country selling the five spindle milkshake mixer to restaurant owners. Ethel on the other hand, found her husband's decision to leave a successful job to enter uncharted territory, inconceivable. Ray had worked in the paper cup business for 16 years now, but he was adamant about it as he had begun to grow frustrated with the monotony and stunted growth at Lily Paper Cup Company. In an interview to the New York Times he said that around the year 1941, "I felt it was time I was on my own".
The Multimixer was an innovative idea and its sales gathered much momentum upon its release in the market. However, with the end of the Second World War (1939-1945), the G.I. bill (World War 2 veterans were referred to as G.I) was passed, which allowed individuals to purchase houses on lower interest rates. Simultaneously, an automobile revolution began in America and the number of cars being used nearly doubled. Furthermore, the construction of the Interstate Highway system allowed people to travel to the suburbs. All these points caused a shift of the American population from the cities to the suburbs and this in turn led to the deteriorating growth of the soda fountain vendors and restaurants in the cities. A domino effect was beginning to grasp the restaurant business which began affecting the multimixer business and the sales began to witness a dip. It was tough time for Ray, but even while the sales were plummeting, Ray kept his own and was building himself from strength to strength.
However, among the deteriorating sales, Ray kept receiving an order for more and more multimixers from a particular drive-in restaurant in San Bernardino, California that was owned by two brothers. In a state where restaurants were closing down and sales were being hampered, these continuous new orders caught Ray's intrigue. His curiosity kept increasing and on one of his trips he decided to visit and find why a small drive-in restaurant required eight multimixers?
Fate had something in store for Ray. Another opportunity was coming his way. While Ray was peddling Multimixers; these two brothers from North Hampshire, USA were indirectly working on something that would alter Ray's life forever.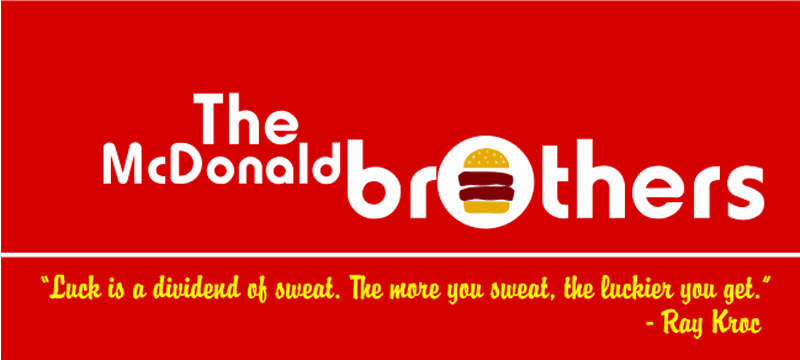 The McDonald Brothers
(The conversation between the two brothers [Richard and Maurice McDonald] below is not the exact words, but the incident has been taken from excerpts of a video interview with Richard McDonald)
Richard: I will be a millionaire by the time I reach the age of 50.
Maurice: No kidding, how much have you got right now?
Richard: about 8 ½ bucks…..
Maurice: Richard, (grinning) you have a little way to go my friend….
Richard and Maurice were two brothers from England, who wanted to make it big in the food industry. The two brothers worked a sundry of odd jobs and even worked in a couple of theatres. Richard was nicknamed Dick and Maurice was fondly called Mac. After working in the city for a while, they finally gathered enough to acquire their own theatre. However, Richard desired to be a millionaire, and he predicted that his dream would not be fulfilled by the theatre business. It was during this time, the two brothers then noticed a hot dog stand that was not only thriving in the stressed economy, but was rather flourishing. A spark flickered in their minds of how they could climb the path of being millionaires - they would open a restaurant. This would not be just any restaurant; it would be a restaurant with drive-ins and a car hop facility.
They opened their first drive-in restaurant in San Bernardino, California in the year 1948 and named it their surname, McDonald's. Their first restaurant logo was a man wearing a chef's hat and apparel; it had a head in the shape of a bun and sported a very fast movement of the legs. The logo was christened "Speedee". His name embodied the motto of the organization of delivering delicious hamburgers at a quick pace.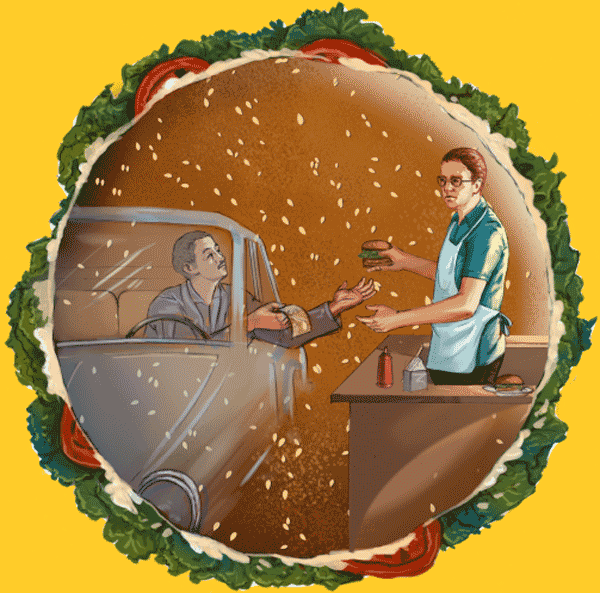 Receiving the service of a restaurant, without the customers even leaving their car made McDonald's an instant hit. For the next eight years, McDonald's flourished and could also be called one of the most successful drive-ins in town. The late 1940's saw a change in the attitude of the American people; the Second World War had ended, and the victorious nation now harboured the attitude of clean and swift service. The McDonald brothers were in tune with the preferences of the American people and made a choice. They decided to change to the varying needs of the people and altered their menu. They decreased the number of items from 25 to 9, which included french fries, burgers, milkshakes and cold drinks.
People imagined the plan of the McDonald brothers to be a decision that would cause their business to suffer severe consequences. They were, at that point in time, running the most popular drive-in, but their decision to alter themselves to cater to the new needs of the American people was said to be a decision they would regret for life. Restaurants provided people with the option of eating a burger and if they wished they could even order something else to go with it, but the McDonald brothers limited their options and provided them with the choice of eating a burger, and if they wanted something else then ordering another burger. The McDonald's restaurant banked on the quality of speed and being inexpensive. Theorists and food experts at that time called this decision inconclusive, but the McDonald brothers went ahead with it anyway. Little did they know, their decision was going to be one of the pioneering elements for the future of the fast food industry. They changed their car hop service to self-service and adopted the assembly line system eliminating the wastage of time. Their decision paid off. The sales of the restaurant sky rocketed. The incident was a one that was out of the blue and the chances of it working were one in a million but it worked in favour of the McDonald brothers.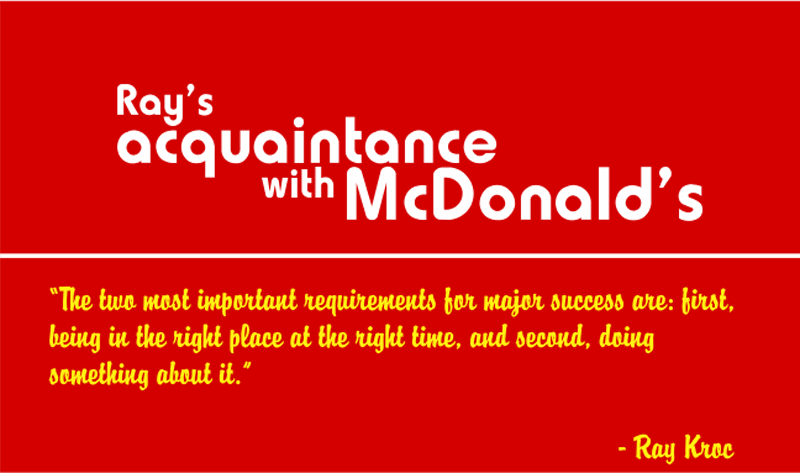 Ray's acquaintance with McDonald's
Their growth garnered a lot of attention and it particularly caught the interest of Raymond "Ray" Albert Kroc. Ray was amazed at the fact that a restaurant in San Bernardino required eight multimixers. A restaurant using eight multimixers was churning out 40 milkshakes every minute. He was curious to know, what restaurant would require that kind of fast and massive service. His curiosity intensified and on one of his trips when he flew to California, he visited the quaint town of San Bernardino to find out for himself. The inquisitive Ray reached there in the morning and waited for the service to start. He wanted to see what the fuss was all about.
Service started at eleven and the building was being stocked with supplies like buns, crates of soft drinks, cartons of milk, sacks of potatoes and heaps of meat. Soon it became clear to him, when he saw people by the dozens driving in with their cars. He wondered looking at all the rush and asked a customer,
Ray: Say, what's the attraction here?
Customer: Never eaten here before?
Ray: Nope
Customer: Well, you'll see. You'll get the best hamburger you ever ate for fifteen cents… And you don't have to wait and mess around tipping waitresses.
Ray was amazed at the efficiency and working of the restaurant. The McDonald's brothers had brought forward a new way to cook and serve quickly and that too at low and affordable prices. A visit to an ordinary restaurant would mean, the customer would be seated, place his order and then the order would take around 20 to 30 minutes to reach him, whereas with McDonald's, a customer would come in, place his order and leave with it in less than a minute. They made fast food, not only fast, but super-fast.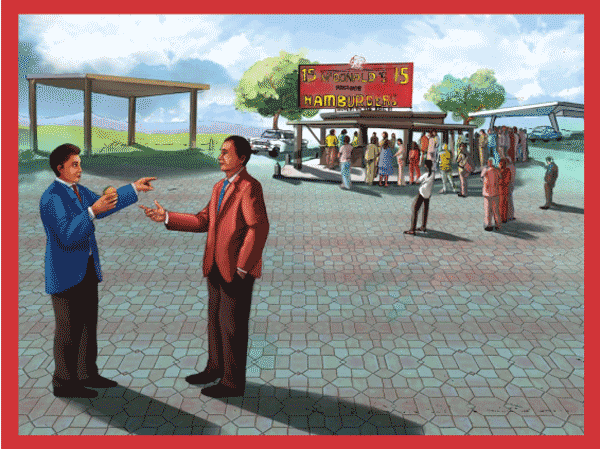 A bright idea..!!! Ray's first visit to the McDonald's, San Bernardino restaurant, brought before him the vision of many more McDonald's all over the country. Ray could envision McDonald's lining the roads and highways all over the country. He pitched the idea to the McDonald brothers, who surprisingly didn't seem very interested in expanding. They weren't interested in the idea of having many more McDonald's opening up around the place. Richard McDonald said, "It'll be a lot of trouble". "Who could we get to open them for us?" Ray saw his opportunity and in response to it said, "Well, what about me?" And this led to the birth of the McDonald's Corporation.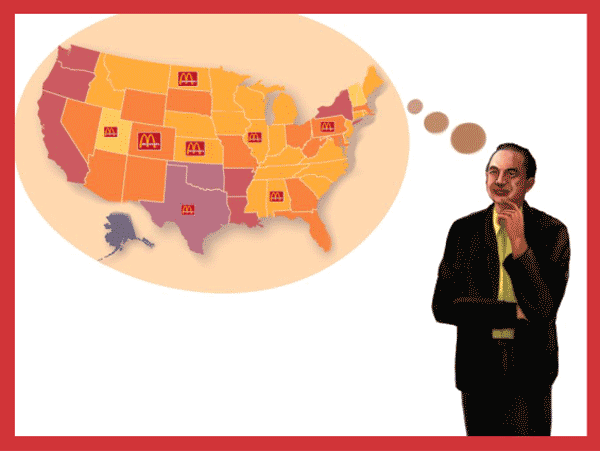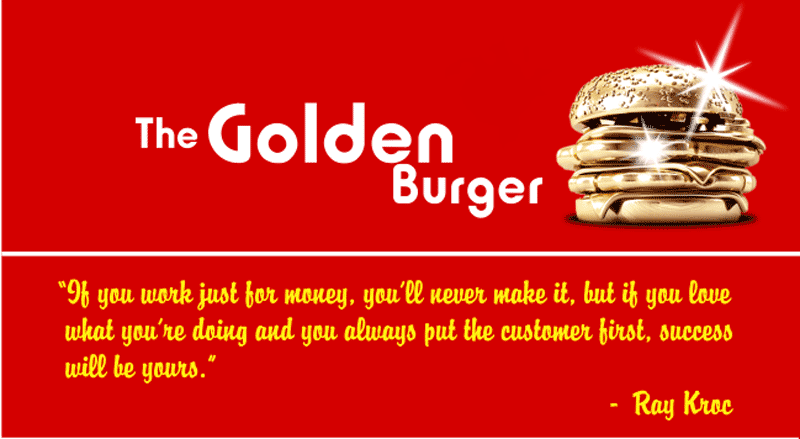 The Golden Burger
There it was..!!! An agreement was reached between the brothers and Ray. He was now the official franchisor of the McDonald's fast food chain of restaurants. He had proposed to receive two percent of the gross sales of the franchisees, but the brothers agreed to 1.9 percent, saying, 2 percent was sounding a little too much and the round figure of the commission amount he would receive, wouldn't go down well with the franchisees. Ray hesitantly agreed. However, he still did not see the future of the fast food joint, but rather thought to himself, more McDonald's would mean many more Multimixers. He did see the future in McDonald's but his point of view was still narrow enough to concentrate only on multimixers as he saw it as a brilliant opportunity to increase his sales.
He signed the contract with the McDonald brothers in the year 1954. At this point in time, Ray was already 52 years old. He was reaching an age where his body was not supporting the endeavours he ventured into. Ray was not in the best physical health ever, as he suffered from diabetes and arthritis. He was making a career choice when other people of his age were thinking of a retirement plan. His choice to change from being a successful salesman to become the franchisor of a new restaurant, putting his lifelong income on the threshold to fulfill his dream, took a toll on him and his personal life. He began to have familial problems with his wife. The relationship between him and Ethel started to strain and when he required her emotional support the most, she concluded his decision of a change in career as a decision that could hamper and ruin their entire life. Ray, however, still provided his all to his work and made it his priority. He focused all his energy and time on his new venture of opening his McDonald's restaurant in his hometown of Des Plaines, Illinois.
Ray spent endless hours at work building his new McDonald's restaurant and ran into great debt bringing the structure up. However, the brothers overlooked and neglected to inform him that the franchise for that particular area had already been sold to another franchisee. Ray was flabbergasted due to this omission of information. It was during this time that Ray had his first tiff with the McDonald brothers. Nevertheless, he was left with no other option but to buy the franchise from the other party for a sum of $25,000. He was already running in debts trying to set his feet in a new career and the exclusion of information on the part of the McDonald brothers only led to more debt for Ray.
This was one of the many conflicts and misunderstandings that erupted between the brothers and Ray over the years, but Ray did not let it affect his enthusiasm for the new venture. Ray was looking forward to working on his restaurant. He believed that he was still green and growing, and years and miles away from rotting. The McDonald brothers sent in their trusted employee, Art Bender to help Ray set up his McDonald's franchise.
Art Bender was hired by the McDonald brothers in the December of 1948 and they shared a very trusting relationship with him. He was the employee that stood at the counter and sold that iconic first hamburger to a young girl who waited half an hour to pick up her first McDonald's hamburger. Art was responsible for all the activities that were related to the working of McDonald's. He overlooked everything and was also part of the process of the franchises being set up. Every new franchise that came up, Art Bender would help them put up their store. He worked endless hours and due to lack of time, even gave up on his love for music.
Art worked with Ray in the Des Plaines franchise of McDonald's. He was also associated with Ray on his second McDonald's franchise restaurant in Fresno, California in 1955 and also helped with the working of the place and provided him with tricks and pointers. Art worked with him for a while, before he left to join in with the McDonald's brothers again. With the franchises up and running, Ray was now moving on his path to the golden arched McDonald's enlightenment of the golden burger.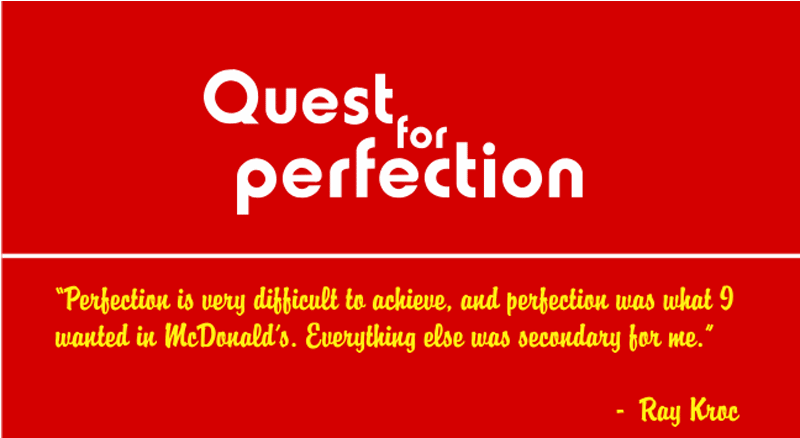 Quest for perfection:-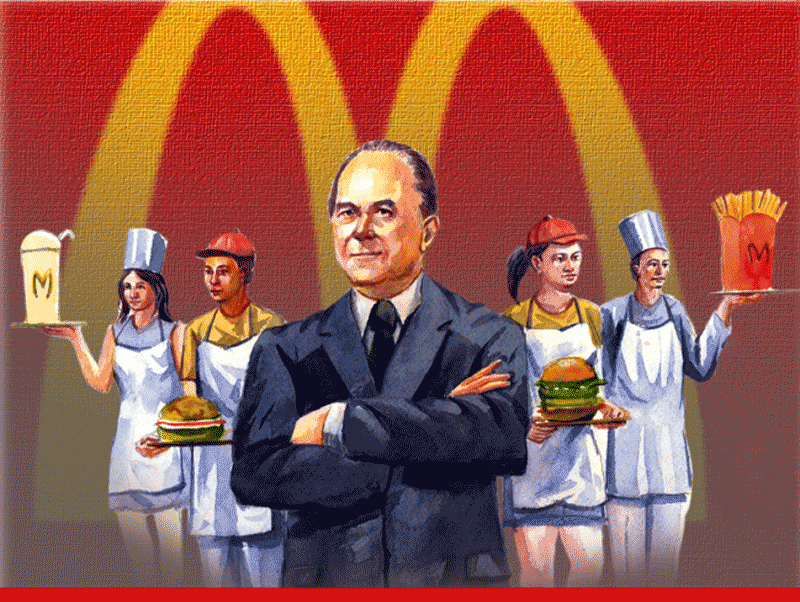 Ray started his new restaurant paying very keen attention to the food, service, time and quality. He wanted to serve the best quality products to his customers and paid great attention to the beef and fat ratio in the patty. Milkshakes were churned out by the dozens every minute. For many restaurants, the humble french fry was just another snack for customers to kill time with, in between meals, but not for the McDonald's brothers. They dealt with it very differently and paid special attention to it. They believed the process of making a french fry to be sacrosanct. The brothers used top quality Idaho Spuds which would weigh around 8 ounces a piece. These were stored in a double layered wire mesh, protecting it from pests and also allowing air circulation. After this, they were peeled carefully leaving a thin layer of skin. The potatoes were then cut into long sections and soaked in water. The process of rinsing the potatoes removed most of the starch, after which they were then fried in unadulterated and unused oil. Ray followed the McDonald brothers' method but made his own alterations to it. To acquire the best quality potatoes, he sent out his employees to make sure his suppliers were following the correct procedure. Freshly harvested potatoes would brown too quickly and cause the fries to become soggy, so Ray would have them stored for several weeks. This would allow the sugars in the potatoes to be converted into starch. The process of curing (food preservation and flavouring technique) would then be used on the potatoes. These potatoes would then be fried for a specific time in a specially designed fryer. Making french fries was an art in the fifties, until Ray converted it into a science. This revolutionized the simple snack. The entire process provided the potatoes the crispy golden colour and extra crunch which in turn made the McDonald's french fries a must have.
The McDonald's motto was Quality, Service and Cleanliness (QSC) and Ray worked incessantly on his motto to allow his customers to be in and out of a McDonald's in less than a minute. Ray had now transformed from being a distributor of Prince Castle Multimixer to being the franchisor of one of the best and most popular hamburger joints on the western coast of America.
Ray had made up his mind to let McDonald's leave its imprint all over America. He had to make it work as he realized the days of the multimixer were numbered. He had to make sure that the risk he had undertaken would pay off, or else it will lead him to fall into a situation of utmost despair. By the end of his first year of being in business with McDonald's he had sold eighteen franchises. He was however, still unable to achieve a state of profit.
In the May of 1955, Harry Sonneborn entered the McDonald's scene. He was a 39 year old, six feet tall financial wizard. Harry was the former vice- president of finances of the Tastee-Freez fast food chain. He had resigned and sold all his stocks before he approached Ray with an innovative idea on franchising. Ray at that point in time was having a tough time trying to create a profit out of all the capital he had invested and was continuously investing. Harry Sonneborn convinced him that there was money in making hamburgers, but even more money in real estate. According to Sonneborn's plan, Ray would either purchase or lease the realty upon which any new McDonald's franchise would stand.
In this way, the franchisees would have to pay him a fixed monthly rental or a percent of the sales, whichever was higher. This would allow the McDonald's Corporation to earn a respectable profit. Ray adopted this idea and soon, Sonneborn's financial advice created a bright glimmer of hope for the venture.
This plan, however, did not go down very well with the McDonald brothers. They did not approve of the many changes Ray was adopting as, in a manner, he was altering their original method. On the other hand, McDonald's, under its new financial and management perspectives began to prosper. Many new McDonald's outlets began to spring out all over the country. By the year 1958, McDonald's had sold its 100th million burger, its sales had more than doubled, and by 1959, they had opened their 100th outlet.
On the other hand, the disagreements between Ray and the McDonald brothers started worsening with time, and Ray became adamant to gain complete control over McDonald's. Ray believed, the brothers did not exploit McDonald's to its complete potential and were hampering the progress by not providing enough to the venture. Finally, in 1961, Ray made the offer to the brothers and purchased McDonald's for $2.7 million. The deal signed also included that the first San Bernardino outlet of McDonald's would remain with the brothers, but as they did not own any rights to the McDonald's name anymore, they had to change the name to 'The Big M'. A McDonald's franchise later opened very close to The Big M and hampered its business enormously.
After acquiring McDonald's, Ray was on the move trying to attain financial and professional success, but his personal front was sailing the rough seas. Ethel and Ray had their disagreements for quite some time, over his decision of leaving a successful job with Lily Tulip Cup Company. The situation got aggravated by Ray's decision to mortgage all that he owned to fund his risk taking endeavours of venturing with McDonald's. Ray always provided an extensive amount of his time to his work. To add to the trouble, Ray had transformed into a man of profession rather a man of family. His dedication to his work added to the difficulties of the already distraught marriage. The relationship had hit the rocks and finally the 35 year marriage came to an end in 1961.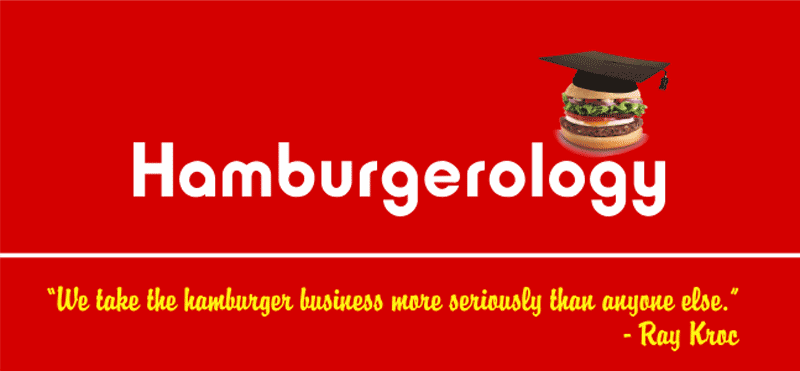 Hamburgerology
Ray could not let things slow down for him. He was known for his attitude to pick up his life and move on. His divorce with Ethel did not act as a buffer to slow him down; on the contrary, it drove him to carry on in a more firm fashion. Ray wanted to bank on the quick, clean and quality service McDonald's provided and he would go uncharted lengths to maintain that ethic. He instilled this desire into all his employees. When business would allow the employees a breather and they would consider taking a break, he would tell them, "If you've got time to lean, you've got time to clean."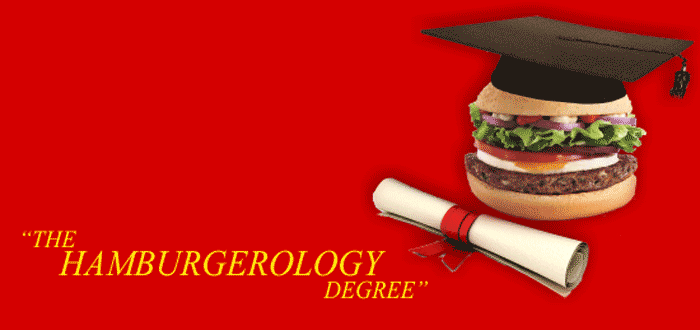 The same year, the Hamburger University was started. The university provided degrees to students in Hamburgerology. The first class of the Hamburger University was held in the basement of the Elk Grove Village, Illinois. The university emphasized on Ray's principles of clean and quality service. The training program taught franchisees, trainees, employees and operators, the method, management and functioning of a successful McDonald's. Hamburger U, as it was trendily called, also housed the Research and Development laboratory to help develop new cooking and storage methods. McDonald's was undergoing great change. The golden arches were an important part of the McDonald's structure and therefore it was incorporated in the new logo in 1961. It now consisted of a trendy logo with two yellow arches forming an "M" slashed across by a line. It was in this year itself, the old McDonald's logo, Speedee retired.
During this time, Ray also began to stay in tune with time and adopted a nationwide advertising campaign. He exploited the means of the media to help increase his sales. Advertising campaigns and themes like the "All American Meal" and "Look for the Golden Arches" made McDonald's a household name and also one of the most popular hangouts of the time. On the other hand, with the increasing popularity and the influx of a great amount of customers, McDonald's was also growing into a huge employer. Many individuals would get their first job (McJob) with McDonald's. The number of students at the Hamburger University also kept growing steadily. By the year 1963, they had provided their 500th student a degree in Hamburgerology. The same year, McDonald's sold its billionth burger and was progressing exponentially. The fast food revolution had hit America and McDonald's was marching on with the power of the Hamburger.
On the personal front, Ray was leading a very lonely life. The emotional void in his life got filled when he fell in love with the charming and diminutive, Jane Dobbins Green, in the year 1963 who he met through a common friend. The two went for dinners and were enchanted with each other. Within a short span of two weeks, they got married. However, not much is known about his relationship with Jane.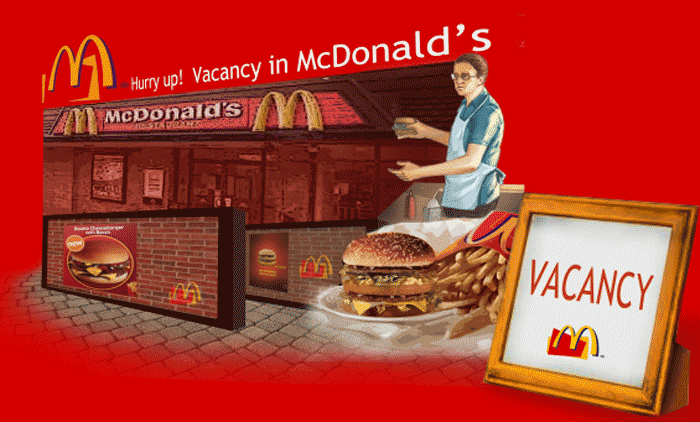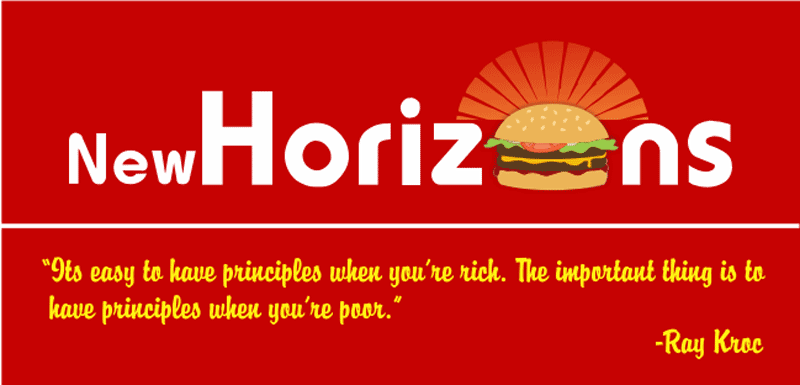 New Horizons
Now sky was the limit for McDonald's and it was forging ahead in the restaurant business with great zeal. Ray desired for McDonald's to become a household name and for that reason he wanted to erect it in every nook and cranny of the country. He wanted to make the McDonald's hamburger available to his customers in airports, stadiums, parks and also departmental stores. The year 1965 marked the inauguration of the 700th McDonald's franchise and also celebrated the 10th anniversary of the first McDonald's that was opened in Des Plaines, Illinois. With a decade completed, McDonald's achieved another accomplishment. It was one of the first fast food companies to go public with their stock offering at $ 22.50 per share. It was during this time itself that Ray Kroc established the Kroc foundation, which supported many causes like alcoholism and diabetes.
Ray was very receptive towards the opinions and suggestions of his franchisees. He would meet with them on a regular basis and discuss possible changes and alterations to suit the needs and preferences of the people of the particular region. We all remember the big fair guy, with red hair, a yellow outfit with red and white stripes and a broad smile. We're talking about McDonald's mascot, Ronald McDonald. Surprisingly, he was not a figment of Ray or his team's imagination, but was rather suggested by one his franchisees. Ronald McDonald then made his first appearance in the year 1965. The red haired mascot went on to gather great fame and recognition. After he was first introduced on television, Ronald McDonald went on to become so famous that more than 90% of the American children became familiar with him. That number being more than the number of children who knew the name of the president of the United States of America of that time.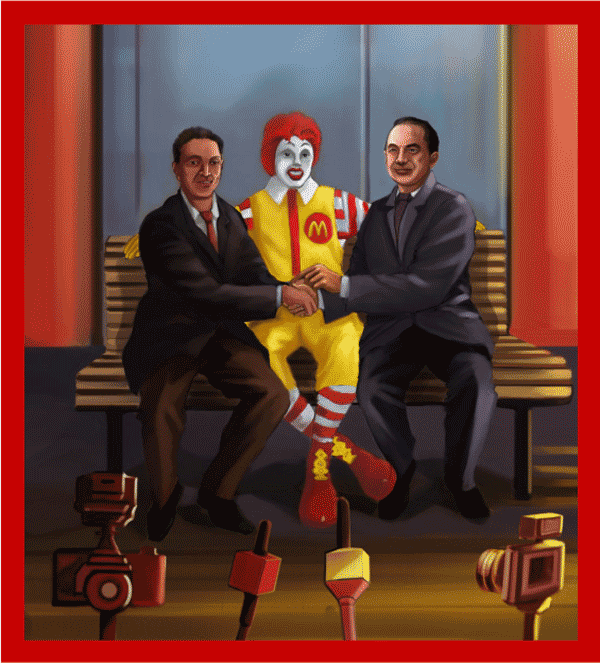 McDonald's was still expanding. Its aim of spreading the fragrance of the burger all over America had now been taken over by the dream to spread its fragrance all over the world. So, in 1967, McDonald's went international and opened its first store in Canada and Puerto Rico respectively and then turned towards tantalizing Europe.
The years passed by and Ray's family life began to see obstacles again. In the year 1968, Ray got divorced for the second time and his less than five year marriage with Jane Dobbins came to an end. One of the main reasons for the separation was speculated to be Ray's interest and love for Joan Mansfield.
Ray had met Joan for the first time while he was still married to Ethel. Ray had laid eyes on Joan eleven years ago at a night club in St. Paul, Minnesota where she was working as an organist. He was instantly bowled over by her beauty and eventually fell in love with her. Joan also shared the same affection towards Ray, but she was married to a navy veteran named Rawland Smith at that time. The two however, kept in touch and remained friends in the years that followed.
Their union seemed as an impossible dream. The societal conclusions that would be drawn were also a major contributing factor as to why the two did not unite. Joan had also heard of Ray's marriage to Jane and so one day she decided to telephone him. After a brief conversation, Joan asked, "Ray, are you happy?" Ray was taken aback by her sudden inquisitiveness and concern for his marriage. He took a pregnant pause and replied, "Yes" and put the receiver down. The two did not meet after that for another five years, but their love did not die. They just buried it deep down and carried on with their lives. Finally, Joan decided to take the leap, irrespective of the consequences or worldly fear. She and Ray decided to get their separate divorces and then took the plunge on March 8, 1969.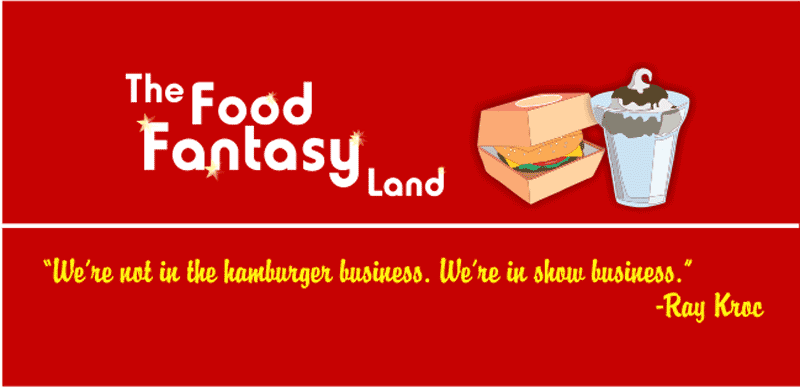 The Food Fantasy Land
The rays of joy were now beginning to shine in Ray's personal life. On the professional front, the year 1970 was all about focusing on the new mascot, Ronald McDonald. Ray wanted to create a food fantasy revolving around McDonald's and so a new series of commercials depicting the fun food world, called McDonaldland were also introduced. A year later, McDonaldland introduced many interesting characters to keep the children and McDonald loyalists engrossed. The characters included Hamburglar - a midget character who wore an apparel of black and white stripes with the motive of the theft of Hamburgers, Grimace- an evil purple colour character who had four hands and would steal milkshakes, Mayor McCheese - the Mayor of McDonaldland who was depicted as a giggly and stumbling man with an enormous burger head, and Captain Crook - a pirate who looked similar to Captain Hook, from Disney's Peter Pan and spent his time stealing Filet-o-fish sandwiches.
Ray finally felt a state of completeness in his life. His personal life was bright and romantic and McDonald's was also functioning brilliantly as the company had turned into a billion dollar corporation. Ray received the Horatio Alger Award in the year 1972. Recipients of this award were individuals who displayed commitment, honesty and excellence and were dedicated community leaders. A year later, Ray stepped down and Fred Turner (he began his career with McDonald's as a grill operator and slowly acquired high ranking positions in the McDonald's Corporation) was appointed as the Chief Executive Officer of the McDonald's Corporation. Ray did take a backseat in terms of the management, but he still maintained being an integral part of the business decisions of the company.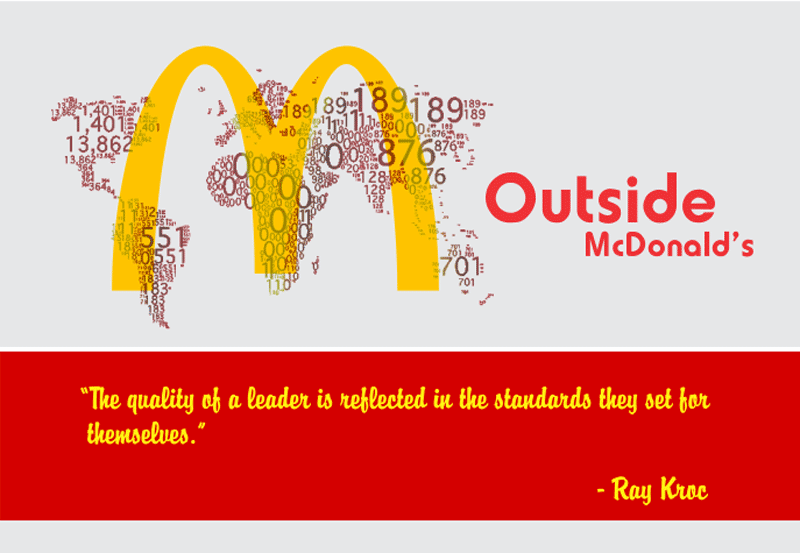 Outside McDonald's
With the reins of the company not in his hands anymore, Ray found time to explore other avenues. Like any devoted American, Ray loved American baseball. He would often remember the many nostalgic moments of the games he had shared with his father. The father- son duo would religiously watch the games and were fans of the Chicago Cubs (a professional baseball team located in Chicago, Illinois.) Ray had a deep desire to own the Chicago Cubs and made offers to purchase it as well, but somehow the deal never materialized. He eventually ended up buying the baseball club, The San Diego Padres, for $10 million in the year 1974.
Ray had many qualities and one among them was being straightforward. On 9th April, 1974, Ray grabbed headlines for speaking his mind. The San Diego Padres were losing with a 9-5 decision to the Houston Astros at the San Diego Stadium. Looking at the position of his team and the game, Ray took hold of the microphone and addressed a crowd of around 40,000 saying, "I've never seen such stupid ball playing in my life". This statement of his not only gathered great amount of attention but it also showcased his ruthless honesty.
The world knew Ray Kroc, but it was time they heard the story behind him. So in the same year, Ray penned down his autobiography called, "Grinding It Out" along with Robert Anderson. Through the book, he provided vivid and intricate details of how he had traversed the journey from being a salesman to a successful entrepreneur.
Over the years, Ray's personal life carried on ceremoniously. On the other hand, McDonald's kept expanding with many more restaurants opening nationally and internationally, students graduating from Hamburger U and the dividends increasing. However, Ray's efforts were not restrained to earning money only. He involved himself in philanthropic work as well and most of his and McDonald's charitable works were done by Joan. Ray also founded the Ronald McDonald House which contributed to many charitable causes.
In the year 1980, McDonald's celebrated its silver jubilee, after which McDonald's went on to be located in 32 countries worldwide in the years that followed. Ray wanted McDonald's to be the taste of everyone's lips and so by the end of 1983, McDonald's was not only standing tall in countries like United Kingdom, Switzerland, Japan, Germany, Canada, Australia and France but had also reached countries like Philippines, Guatemala, Panama, El Salvador, Brazil, Singapore, Puerto Rico and Malaysia.
However, Ray was now growing old and his health was deteriorating. Though his actions and movements were restricted due to being in a wheelchair, he still always gave first preference to McDonald's and never stopped working till the last day. Finally, the great salesman succumbed to death due to heart failure on 14th January, 1984, at the age of 81. The visionary, the risk taker, the instinctive leader, the dreamer was no more, but his dream was still living.
On 20th January, 1984, his trusted friend and colleague, Fred Turner embodied Ray's personality and his influence on the world in his eulogy saying, "Ray touched us. He had a rare capacity to bring out the best in us. Ray taught us. He taught us to be diligent, to apply ourselves, to raise our self expectations, to be enthusiastic about our endeavours, to have pride and to waste not. Ray gave us an example. He gave us an example to be generous, to be thoughtful to others, to be fair-minded, to have balance, to do nothing in excess. We admire his entrepreneurship, his competitiveness, his integrity. We loved his personality, his openness and inherent honesty, and his spontaneity…"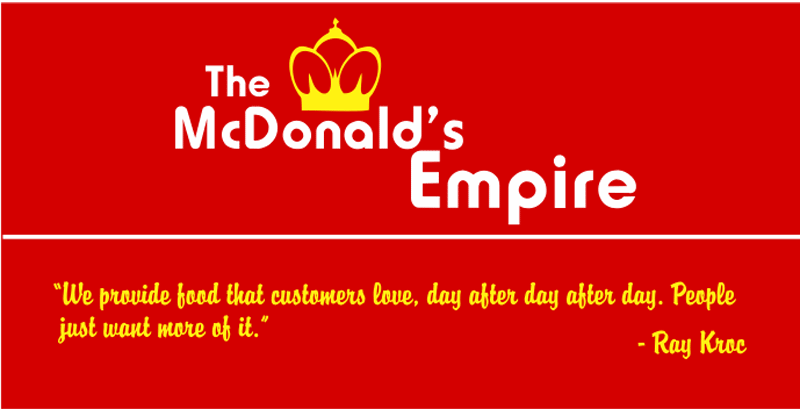 The McDonald's Empire
The McDonald's Empire had lost its king. Ray's death however, did not stop McDonald's ever increasing expansion and growth. Even Ray would not wish for McDonald's to come to a standstill for any reason, even if that reason was his death. The McDonald's Corporation grew enormously over the years. Their sales kept sky rocketing, the number of students studying and attaining a Hamburgerology degree kept increasing and the McDonald's Hamburgers were crowned one of the 100 products that America makes best.
Ray Kroc did not invent McDonald's; he reinvented it, and their restaurants and re-inventions brought about a great change in the food industry. Life Magazine included Ray Kroc as one of the "100 most important Americans of the 20th century". McDonald's touched and improved lives and became the first job for many young individuals. John Love, the author of 'Behind the Golden Arches' said, "With more than 500,000 people on its payroll at any one time, McDonald's is easily one of the largest employers in the United States". John then adds, "Its impact on the U.S. work force greatly exceeds its current employment, because it trains so many high school students for their first jobs".
The Kroc family could not have thought of a more apt nickname for Ray Kroc. They called him 'Ray' and he lived up to that name. He acted like a ray in the fast food industry... a ray of change, a ray of good quality and service, a ray of opportunity for the many youngsters working at McDonald's. Ray worked his way up to the top of the list of influential individuals in the food industry and took risks to achieve the goals he dreamt of. Ray Kroc intended to make the McDonald's burger, the familiar taste of every home. Many people spoke words of praise for Ray and appreciated his contribution to America. Tom Robbins of Esquire Magazine said, "Columbus discovered America, Jefferson invented it and Ray Kroc Big Mac'D it". Esquire Magazine also included Ray in the list of the fifty individuals who contributed to the American way of life in the 20th century. He was ranked among legends like psychologist Abraham Maslow, theologian Reinhold Niebuhr and civil rights leader and activist Martin Luther King Jr.
Ray was a futurist and a visionary. He not only grabbed the opportunities he saw along his journey, but also created many more opportunities for other individuals and franchisees he met and interacted with in his life. He realized the worth of allowing his franchisees to express opinions, provide suggestions and give pointers for improvement. Ray always kept his mindset on the move, adopting new plans and policies to improve McDonald's and played an integral part in re-inventing McDonald's from time to time. He paid special care and attention to his ventures and those efforts paid off. Ray could be described as a self made tycoon, a life loving enthusiast, an interesting story teller. His life showed to the world the rags to riches story and that hard work and resolve are determining factors for success.
To end your reading on a musical note, the song, "Boom Like That", by Mark Knopher embodies Ray Kroc's life in the most apt words. He sang to his glories and cited his criticisms with the following lyrics,
Or my name's not Kroc
that's Kroc with a 'k'
like 'crocodile'
but not spelt that way, now
it's dog eat dog
rat eat rat
Oh, it's dog eat dog,
rat eat rat
kroc-style
boom, like that

So the next time you bite into a McDonald's burger, remember that determined salesman in his 50's, who embarked on a journey to bring a revolutionary change in the food industry with only burgers, french fries and milk shakes as his weapons of glory, and your lips will automatically utter, "I'm Lovin it".